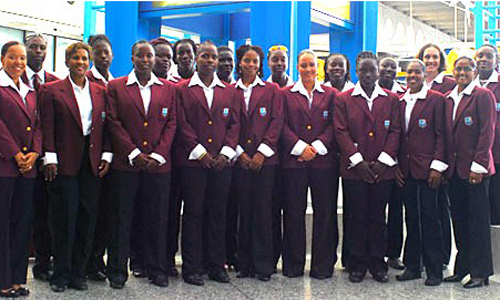 Bridgetown, Barbados – After eight days of "hard work and positive results", West Indies Women's coach Sherwin Campbell is confident his team will do very well at the upcoming International Cricket Council's Women's Challenge Tournament in Potchefstroom, South Africa. Speaking on Thursday after the third and final warm-up match, Campbell was quite happy with the readiness of his players.
Campbell said: "I believe we will do very well in South Africa. We had some very productive net sessions and I also wanted to see how the girls would perform in the middle, so we had three very successful matches against quality local opposition. I was not really looking at the results [of the matches]. I was looking to make sure that the players got the necessary work before we depart for what will be a very important tour of South Africa. When we reach Potchefstroom we will be going straight into the matches so we made sure we got as much match preparation as we could."
The former West Indies Vice Captain added: "I believe we are good enough to win the tournament. However, cricket is a game which is played outdoors and not on paper or in the dressing room so the girls have to go out there and prove they can do the job. We are the highest ranked team in the tournament, so the other teams will see us as the team to beat. We know once we do the basics right and stay in control of our game, we will be successful. We can't underestimate any of the opponents. We have to go out and play it game by game."
Looking at the make-up of the team, Campbell noted: "In women's cricket the spinners normally dominate and it is good that we have some quality spinners in our team. Our spinners are also very good batters as well, so they will double up. We also have some good seamers, so overall we have a balanced attack. We need to make sure we get the runs on the board and I'm sure the bowlers will do the job."
On Thursday, the Windies girls lost to Combermere School by 120 runs at the Banks Brewery Ground. The schoolboys, who had a number of national junior players in their line-up, batted first and made 225-9 from 36 overs. The Windies girls replied with 105 off 35.3 overs. In the bowling department for the Windies, off-spinner Anisa Mohammed took 3-39, while 17-year-old leg-spinner Shemaine Campbelle took 3-50. The West Indies will depart from Barbados on Saturday evening.
FULL SQUAD:
Merissa Aguilleira (Trinidad and Tobago) Captain/Wicket-keeper
Anisa Mohammed (Trinidad and Tobago) Vice Captain
Shemaine Campbell (Guyana) Wicket-keeper
Britney Cooper (Trinidad and Tobago)
Shanel Daley (Jamaica)
Deandra Dottin (Barbados)
Pearl Etienne (Dominica)
Cordel Jack (St Vincent and the Grenadines)
Stacy-Ann King (Trinidad and Tobago)
Subrina Munroe (Guyana)
Juliana Nero (St Vincent and the Grenadines)
Shakera Selman (Barbados)
Tremayne Smartt (Guyana)
Stafanie Taylor (Jamaica)
FIXTURES
One-Day Internationals
October 6 – Pakistan v Ireland (NWU 1); West Indies v Netherlands (Witrand); South Africa v Sri Lanka (Senwes)
October 7 – Netherlands v Sri Lanka (NWU 1); Ireland v West Indies (NWU 2); Pakistan v South Africa (Witrand)
October 8 – Rest/Reserve Day
October 9 – West Indies v Sri Lanka (NWU 1); Netherlands v Pakistan (NWU 2); Ireland v South Africa (Witrand)
October 10 – South Africa v West Indies (NWU 1); Sri Lanka v Pakistan (NWU 2); Ireland v Netherlands (Senwes)
October 11 – Rest/Reserve Day
October 12 – South Africa v Netherlands (NWU 2); Sri Lanka v Ireland (Witrand); West Indies v Pakistan (Senwes)
October 6 – Pakistan v Ireland (NWU 1); West Indies v Netherlands (Witrand); South Africa v Sri Lanka (Senwes)October 7 – Netherlands v Sri Lanka (NWU 1); Ireland v West Indies (NWU 2); Pakistan v South Africa (Witrand)October 8 – Rest/Reserve DayOctober 9 – West Indies v Sri Lanka (NWU 1); Netherlands v Pakistan (NWU 2); Ireland v South Africa (Witrand)October 10 – South Africa v West Indies (NWU 1); Sri Lanka v Pakistan (NWU 2); Ireland v Netherlands (Senwes)October 11 – Rest/Reserve DayOctober 12 – South Africa v Netherlands (NWU 2); Sri Lanka v Ireland (Witrand); West Indies v Pakistan (Senwes)
T20 Internationals
T20 Group A: West Indies (fifth), South Africa (seventh), Netherlands (tenth)
T20 Group B: Pakistan (sixth), Sri Lanka (eighth), Ireland (ninth)
October 14 – West Indies v South Africa (NWU 1); Pakistan v Sri Lanka (NWU 2)
October 14 – South Africa v Netherlands (NWU 1); Sri Lanka v Ireland (NWU 2)
October 15 – Rest/Reserve Day
October 16 – Netherlands v West Indies (NWU 1); Ireland v Pakistan (NWU 2)
October 16 – A1 v B1 (NWU 1); A2 v B2 (NWU 2); A3 v B3 (Witrand)
October 14 – West Indies v South Africa (NWU 1); Pakistan v Sri Lanka (NWU 2)October 14 – South Africa v Netherlands (NWU 1); Sri Lanka v Ireland (NWU 2)October 15 – Rest/Reserve DayOctober 16 – Netherlands v West Indies (NWU 1); Ireland v Pakistan (NWU 2)October 16 – A1 v B1 (NWU 1); A2 v B2 (NWU 2); A3 v B3 (Witrand)