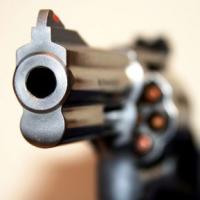 The man with initials S.E. who lives on Tangerine road in Sint Peters filed an official report with the detective dept. on Monday September 27th, stating that on that same day just after midnight, he was startled when he heard noise of breaking glass coming out of the direction of the front door of his apartment.
When he walked to the front door he was surprised when he was confronted by a young man who had his face covered with a mask and was in the possession of a shotgun. The man threatened the S.E. by aiming the shotgun at him.
S.E. took off running to avoid being shot. At the same time the suspect fired two shots at the door where the victim stood. Luckily none of these shots struck the victim. At that same moment two other unknown suspects arrived at the apartment of the victim in a blue vehicle and took away a 125cc Gilera scooter belonging to the victim. After taking the scooter all three suspect left the scene.
The Special Robbery Unit and Forensic Department are busy investigating this case.