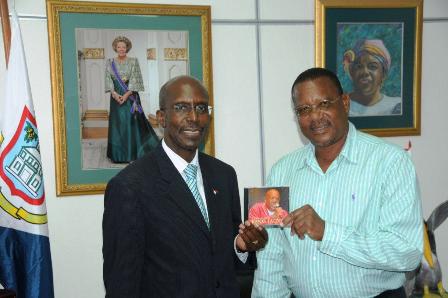 In one of his last acts as Governor of the Island Territory of Sint Maarten prior to traveling to Holland on government business and taking a well-deserved vacation at the end of May, Governor Franklyn Richards was presented with a complimentary music CD from calypsonian King Jacko.
Richards said the island heading into a new constitutional status, from island territory to country status, strong leadership will be needed once the island receives its new status on October 10, 2010, as their will be additional responsibilities and obligations attached.
The CD is entitled, "A Strong Leader," and during the presentation Governor Richards told King Jacko to keep up the good work and wished him the very best with his endeavours in music.
Franklyn Richards term as Governor concludes on Tuesday, August 10, 2010