Home and business owners need to do their part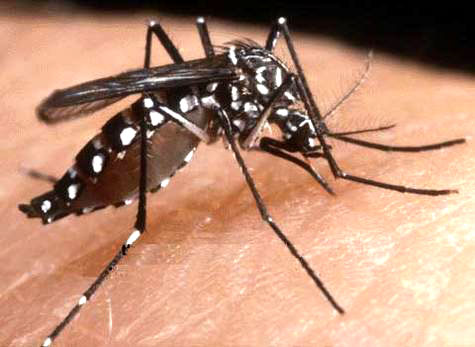 The Collective Preventive Services (CPS) announced on Thursday that there has been 54 confirmed cases of dengue fever on the Dutch side of the island from January up to the end of July. Of those 54 persons, 12 were hospitalized.
Current dengue fever numbers on the Dutch side do not qualify to declare a dengue fever epidemic. The criteria call for at least five cases of dengue fever for two consecutive weeks and that is not the case at this point in time.
A meeting of the Dengue Action Response Team (DART) took place earlier this week at the offices of Sector Public Health. The meeting was called to review the current dengue situation on the Dutch side of the island and the actions that have been taken and what still need to be done.
One of the main conclusion points is community action in the fight against preventing dengue by denying breeding grounds for mosquitos.
Mosquito Eradication Controllers are not able to visit every yard on a regular basis, and therefore if all owners of structures, homes and business all assist, the Ades Aegypti mosquito which has the potential to transmit dengue fever would be denied a breeding place to lay its eggs.
Every home and business owner has to do their part. The more hands on deck the better and one are able to tackle the problem head on.
Vector Controllers have visited various locations where dengue cases have been reported and have taken the appropriate measures required to eliminate mosquito breeding spots.
For a period of three weeks in May and early June, an island-wide (Dutch side) fogging exercise was carried out to kill the adult mosquitoes. However, if there are larvae the fogging control measures does not kill the larvae which then later become mosquitoes, which can be responsible for dengue.
The best and only measure is for every home and business owner to also join the war in taking preventive measures to deny mosquito's breeding areas.
Mosquito Eradication Controllers after carrying out follow-up inspections in certain districts have noticed homeowners are not following the instructions that have been given to them to remove items etc that may become a breeding ground for mosquitos.
When controllers go back to locations that have already been visited, and the owner hasn't taken any action as requested by the vector controllers, due to non-adherence, the possibility of issuing fines will be considered.
Those present for the DART meeting were representatives from the Tourist Office, SLS Lab, Epidemiologist, and CPS.
Those who require information about mosquito prevention measures can check on a weekly basis the Government Information Page in the two daily newspapers or call CPS at 542-2078 or 542-3003.