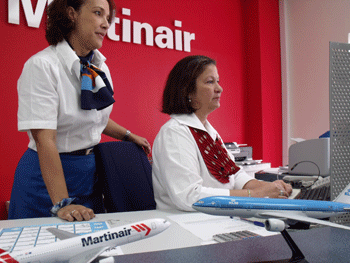 ORANJESTAD — The new company logo from KLM and Martinair will soon be displayed together also on the façade of the ticket office at Rockefellerstraat.
NEWS ARTICLE TAKEN FROM WWW.AMIGOE.COM
The merger of both airline companies as one Caribbean office is a fact since this month. General Manager Simone Wickenhagen announced this from Curaçao.
However, anyone standing outside this ticket office now only sees the well-known red logo on the façade. Upon inquiry inside, it appears that the logo will be replaced soon. "We are working on it", sales manager Danilo de Freytas explains. However, he points towards the windows. "First you only saw the Martinair logo on each window, but now you see the logo's of both KLM and the other daughter company of Air France."
The integration is visually noticeable inside the office. One ticket co-worker wears the blue uniform, while the other wears the red one. "They exchange uniforms every day", says De Freytas. A small aircraft from each company is displayed on the counter. A blue map of the world hangs next to the red wall. "Something you do not see, are the printers. We have a different printer for each airline company so that they only have to switch printers upon printing the tickets. This works flawlessly." Smilingly, he points towards his desk, where there are as much as two laptops. "This will soon become only one computer."
Personnel
The integration does not have any consequences for the personnel on Aruba. "First we were only KLM, and afterwards only Martinair. Now we are both. We still work with the same personnel and from the same building."
Daughter Company
Martinair became a full daughter of KLM at the beginning of 2009. Both companies subsequently worked towards a more efficient management. The integration of the Caribbean office of KLM and Martinair became a fact since this month. According to Wickenhagen, that all sections of both airline companies are smoothly integrated is something new within the worldwide concern.
It started two months ago with the integration of the office at the airports. Subsequently, the ticket offices, ground transactions, administration and the marketing departments were also integrated this month. The head office of the Caribbean establishment is domiciled at Hato airport. KLM and Martinair are also visibly housed there in one building. However, Wickenhagen emphasizes that it remains two brands on the international market. "We only joined forces and means because of the management. Anyone now wanting to fly with KLM or Martinair can make reservations at the same sales office."
NEWS ARTICLE TAKEN FROM WWW.AMIGOE.COM