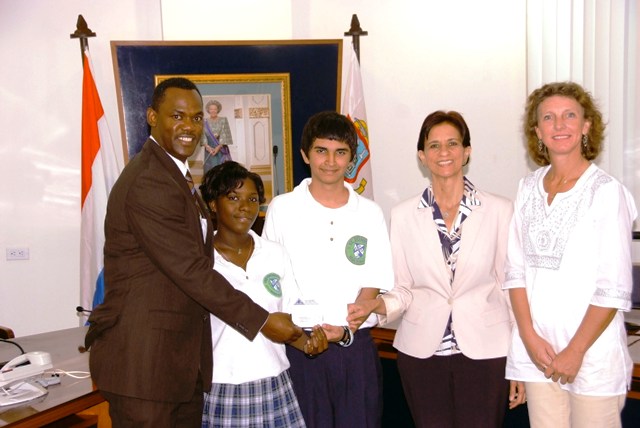 GEBE Managing Director, Mr. William Brooks, presented the first place winners of the 2009 Interscholastic Debate with their prize in the presence of Commissioner of Constitutional Affairs, Sarah Wescott-Williams on Wednesday, April 8, 2009.
Brooks congratulated the students on their exceptional performance and winning first prize in the competition. Members of the St. Dominic High School debate team, Suvir Pursnani and Charlesia Joseph, who also won best speaker, along with their principal, Jose Sommers, accepted the prize on behalf of their school. The prize consisted of $1500 and a Hi Fi System for the school.
Commissioner Wescott-Williams also commended the students for their accomplishment. "All five schools gave outstanding performances during the Interscholastic Debate. The topics were well researched, the teams were very prepared and gave excellent presentations, but there could only be one winner."
Sommers praised her students for a job well done. "This achievement was a great team effort by the entire fifth form who got together even on Saturdays to brainstorm and rehearse." She also stressed the importance of the debate, "This interscholastic debate really involves the students in the important issues that they will be faced with in their future. These students are going to be the ones that will need to solve future challenges of our society. The Interscholastic debate also gives us a good insight into the youth of today and the things they are thinking about."
Suvir Pursnani thanked the Cultural Department and Commissioner Wescott-Williams for organizing the competition as well as NV GEBE for contributing the prize.
Students from five secondary schools competed at the Philipsburg Cultural & Community Center that was held on January 29, 2009. The theme of the 2009 Interscholastic Debate was "What you do today is going to affect tomorrow." Each of the five competing schools prepared and presented different topics; Milton Peters College (Culture), Caribbean International Academy (Crime), St. Maarten Academy (Environment), Learning Unlimited (Education) and St. Dominic High (Constitutional Affairs).