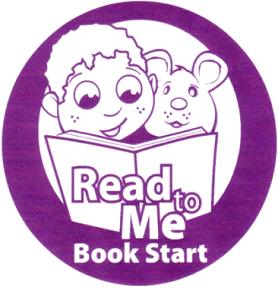 PJ Library and SIFMA are launching the Book Start St Maarten campaign under the slogan:' Read to me.'
The Philipsburg Jubilee Library in close cooperation with SIFMA is organizing a special program for parents of babies and toddlers.
Duration of the program: 20 to 25 April 2009.
Slogan : Read to me.
Bookstart St Maarten will feature activities for parents of babies and toddlers on how to choose and use books and how to involve their children in activities that build reading and language skills. Reading to your child is one of the most important things you can do to help ensure success in your child's life. In the upcoming week the following Bookstart activities will take place at the library :
Special 'Read to me ' offer for babies and toddlers @your Library !!
As of April 20th all parents who register their baby or toddler at the library will get a surprise bag full of gifts ! As an additional offer between April 20th and April 25th parents who register their baby or toddler will get a library card free of charge. Only a refundable deposit of NAF 25,- will have to be paid.
Reading workshop: 20th April 2009
On Monday April 20th the PJ Library and SIFMA are organizing an educational and exciting reading workshop between 7-pm and 8.30 pm. During the workshop parents will learn how to read to their babies and toddlers. Patricia Maier of the University of St Martin will be presenting the workshop and Papa Umpo will do the storytelling.
Movie nights April 21st and 22nd
April 21st and April 22 th will be movie nights at the library. On Tuesday March 21 th the hilarious comedy ; 'Daddy day care ' will be shown starting at 5.00 pm and on Wednesday March 22nd the movie " Babies day out will be shown as of 4.30 pm .All children and their parents are welcome !
Toddler Lunch April 23rd
On Thursday the April 23rd between 12.00 and 1.00 pm the library will host a toddler lunch . 20 children between the ages of 2 to 3 years will be invited for this special 'reading lunch'. The library calls upon government services and businesses to give parents of babies and toddlers an hour off to enable them to attend the reading lunch at the library together with their child. While the library is having their reading lunch 6 daycare centers will simultaneously have 'reading lunches' at their own schools. Tickets for the reading lunch at the library are free of charge but space is limited so come to the library and register soon !
Our Read to Me program is especially designed to help parents make the most out of their children's first exposure to books reading and language. We are encouraging parents to register their babies at the library. Membership for babies/toddlers is free of charge, just walk with a passport size picture of the child.