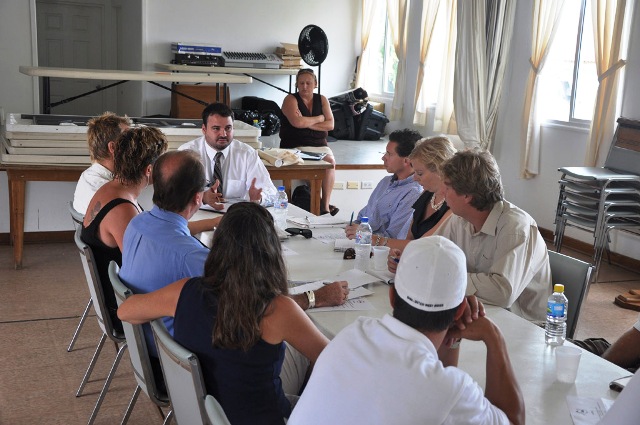 Commissioner of Tourism, Mr. Chris Johnson and local Tourism Director Glenn Holm recently held a meeting with stakeholders in the tourism sector. Discussions surrounded several pending issues that the island is currently facing; such as the effect of the economic recession on the islands tourism market, joint marketing strategies, and low-season preparation.
This meeting was requested by Mr. Wolfgang Tooten of the Saba Tourism and Hotel Association, sub-committee of the Saba Business Association. The meeting was organized to cater to the hotel owners and dive shop operators as being the most influential to the local tourism market.
Those in attendance were open in discussion while also analyzing the closing of the 2008/2009 high-season. Many of the stakeholders voiced the opinion that communication needs to be improved from the tourist bureau and the Hotel/Dive shop owners. Director Glenn Holm agreed to send monthly updates as to the marketing actions of Government and the Saba Business Association agreed to compile a comprehensive email list in order to carry this out. Commissioner Johnson reminded the group that Government serves as a facilitator in these matters and that he hopes that the main players in the tourism market would start combining their efforts in marketing, instead of competing with each other on a small scale.
The meeting concluded with several action points including a follow-up advertisement in Duiken, a Dutch Magazine, more focus on regional markets, and better cooperation with transportation providers (such as Winair, The Edge, and Dawn 2).
Source: Saba Government Information Services – gis@sabagov.com