St. Maarten delegation learns Port of St. Maarten First cruise destination to be ready for Genesis Class Mega Cruise Ships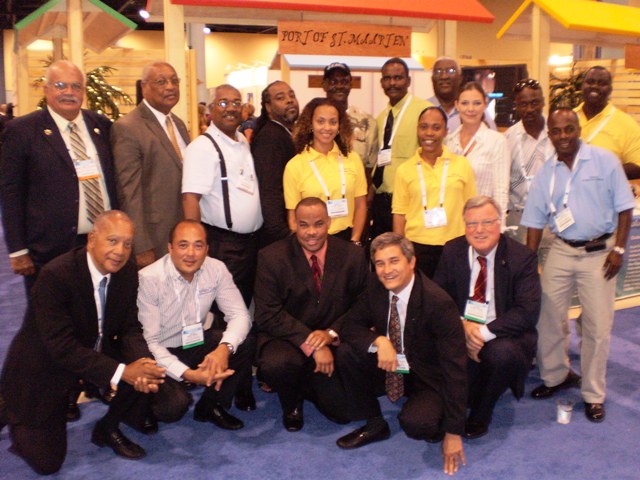 The St. Maarten delegation headed by Commissioner of Port Affairs Theo Heyliger, who just recently returned to the island after attending the Seatrade Cruise Shipping Miami Conference, have been informed that the Port of St. Maarten is the first harbour that will be ready for the Genesis class cruise ships.
The new cruise jetty measuring in at 445 meters in length and 21 meters in width will be ready in May followed by additional cruise amenities in September. Funding for the cruise harbour expansion has been provided by Carnival Cruise Lines (US$35 million) and Royal Caribbean Lines (RCL) (US$10 million).
The Oasis of the Seas is expected in port around mid-December. The vessel home porting in Fort Lauderdale makes its maiden voyage on December 12, 2009.
At the cruise shipping conference, St. Maarten was singled out several times for its foresight and pro-active preparations as a cruise destination, Chief Executive Officer (CEO) Mark Mingo of the St. Maarten Harbour Group of Companies stated on Thursday.
Royal Caribbean International announced in February 2006 its Genesis project which entailed the construction of the largest cruise passenger ship in the world weighing in at 220,000 gross tons and costing approximately US$1.2 billion. The RCI Chairman and CEO Richard Fain called it, 'exhilarating to take such a giant step into the future.'
The new vessel, Oasis of the Seas, will have a passenger capacity of 6400 and 2000 crew for a total complement of almost 9000 souls. The vessel will be 360 meters long and 47 meters wide and 65 meters above the waterline.
Oasis of the Seas will be 43 per cent larger than other vessels in the RCI fleet. RCI is constructing two of the mega-size vessels with Allure of the Seas being the second vessel to debut in 2010.
According to cruise industry officials, the largest cruise ships have proved to be the largest cash generators for the operators, offering economy of scale benefits.
"St. Maarten was singled out once again by the cruise industry for being a premier cruise destination in the Caribbean. We are very proud of this accomplishment which has been achieved with the vision and foresight of Commissioner of Port Affairs Theo Heyliger, the Supervisory Board and all those who work in the tourism industry on the island.
"We must continue to work hard as a cruise destination to maintain our position. We cannot afford to sit back at this point in time in order to maintain our lead," stated CEO Mark Mingo of the St. Maarten Harbour Group of Companies on Thursday.