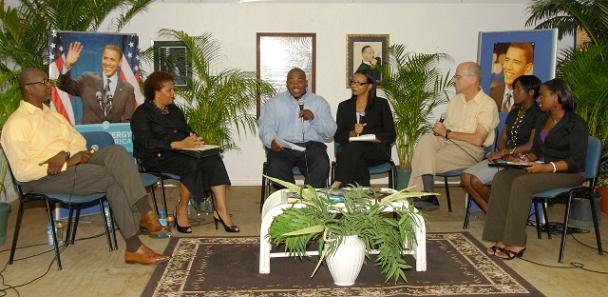 The final part of the week long celebration marking the 80th birthday of Dr. Martin Luther King, Jr. and president Barack Obama's inauguration will come to a close with a grand celebration this Saturday, January 24, 2009, 7:30 pm, at Marigot water front.
Members of the St. Martin Awareness Committee, in press release on Thursday said, "they are very much satisfied with numerous activities organized so far." The series of activities organized by the committee included a public debate, which was broadcasted live by MSR Cable network and La Voix FM radio station, and a car and bike rally on Tuesday, January 20, the day of president Barack inauguration. These events were well received by the St. Martin population as the euphoria for Obama's victory stormed the world.
The St. Martin Awareness Committee is encouraging the St. Martin population to come out for the finally of the week long celebration of history and victory for all freedom loving people from around the world. The schedule program will feature speeches by the elected officials from both sides of the island, member of the St. Martin clergy, members of youth councils and social and community activists of St. Martin.
The following is the complete program line up for the evening:
· SENATOR LOUIS CONSTANT FLEMING

· POEM by GROUP ONE POET SOCIETY – "Silent Protest"

· COMMISSIONER SARAH WESCOTT WILLIAMS

· PRESIDENT FRANTZ GUMBS

· LINDWORTH WILSON "The writing's on the Wall"

· PASTOR EDMOND FLEMING

· PASTOR JEROME THOMAS

· SONG by ODDYSSEY – "Everything gonna be OK"

· ANDERSON PERSIVAL "Still I rise"

· PRESIDENT OF THE ST MAARTENYOUTH COUNCIL

· CHAIRMAN OF THE YOUTH TERRITORIAL COUNCIL

· POEM by GROUP ONE POET SOCIETY – "ST MARTIN YES WE CAN"

· SHUJAH REIPH President of Conscious Lyrics Foundation

· "THE WAY FORWARD" by Shermina J. & Emile POWELL

· PAUL WHIT: VOTE OF THANKS
SXM Unite for Obama " Obama Anthem"