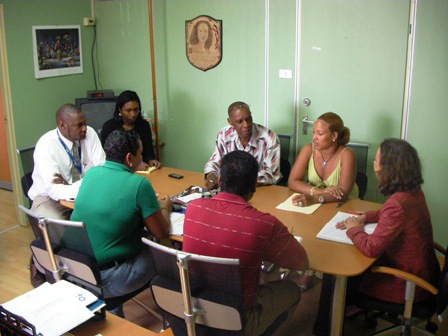 Commissioner of Sports Maria Buncamper Molanus recently met with the new board members of the Foundation Upkeep Sports Facilities (FUSF) to be briefed on their plans for 2009 and get an update on the state of affairs at the sports facilities which they are responsible for.
All of the board members expressed that they are happy to be on the board and explained that by being on the board they have gained much insight into what it takes to run these facilities. They stressed that there's a lot of work to be done and they are eager to get it done.
Issues discussed included, but were not limited to, improved lighting at sports field where needed, placing removable multi purpose goal posts in various districts, building various secured storage facilities at Melford Hazel and at other facilities, the security cameras that are currently being installed, securing the L.B. Scot Sports Auditorium as well as long term major sports projects.
The Commissioner thanked the board for the work they have done thus far and urged them not to become complacent since their task is not a small one. She explained that although financial resources from government might not come as fast as all would like, sports and St. Maarten's sporting facilities are still one of her top priorities.