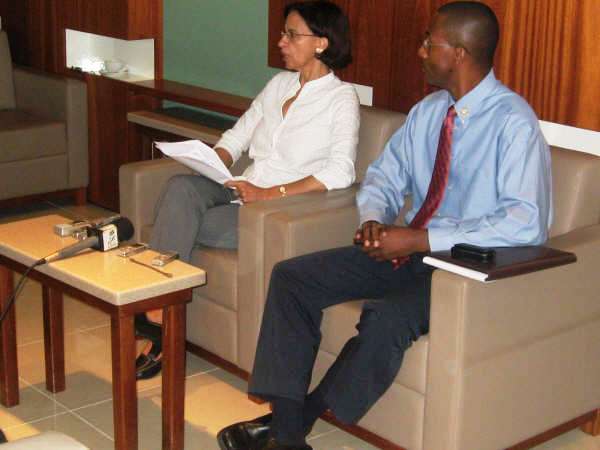 An elated and pleased commissioner of constitutional affairs, Mrs. Sarah Wescot-Williams spoke to the press on Tuesday, December 16, 2008 at the Princess Juliana International Airport after returning from the Round Table Conference that was held on Curacao on Monday, December 15, 2008 (Kingdom Day). Mrs. Wescot thanked the press for coming out and expressed how happy she was to return home. She went on to introduce the members of the St. Maarten delegation that accompanied her to the Round Table Conference in Curacao.
Moreover, the Commissioner went on to explain what had led up to the present Round Table Conference just held on December 15, 2008. She took us back to the outcome of the Round Table Conference that took place since November 26, 2005, which she mentioned that all partners at that time decided together that the amendment to the charter of the Kingdom will take effect after the following:
1. There would be a development phase
2. There would be a implementation phase
The target at time in 2005 for the constitutional change was going to be July 1, 2007; there was already the agreement that St. Maarten would have become a country within the Dutch Kingdom. At that time in 2005 the implementation phase would have started on the 1st of July 2006 and would have lasted one year and the new statuses would have gone in effect by July 1, 2007. In addition, for the development phase the islands would have to develop their own constitution, the necessary legislation and government structure. Once that was in place they would be vetted or would be reviewed and once that review was done the approval would have followed.
The commissioner further explained that after discussing the various compliances that should have been in place as of November 2005 to July 2006, it was then decided to have a review Round Table Conference (RTC) on December 15, 2008, hence the meeting that took place on Monday.
Commissioner of constitutional affairs, Mrs. Wescot-William, gave the results of what transpired in the present Round Table conference (RTC) held on Monday, December 15, 2008
1. The consensus Kingdom Laws;
2. The joint Court of Justice, Prosecutors Office, the Police law the agreement of immigration and detention capacity
3. They have also confirmed the task of the debt relief of the Netherlands Antilles will be advised by the Dutch audit chamber that was requested by the Dutch 2nd Chamber.
4. The review of the corporation agreement as made in November 2006 will be put in place by the political steering group. And the constitutional change would be completed to herald in the new statuses in the final Round Table Conference (RTC) come 2009