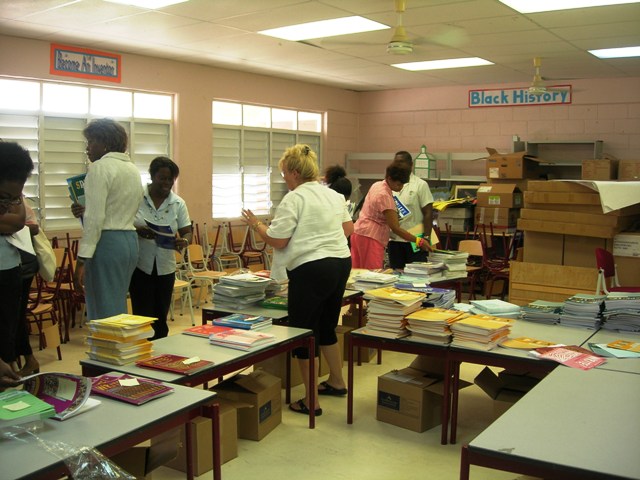 It was standing room only for seventy-two teachers, from the public elementary schools, who attended a spelling workshop hosted by Mrs. Judy Condon, a visitor from the United States and who is also a St. Maarten homeowner. She worked with Patti Maier, Public Education's Remedial Coordinator, to organize the workshop. The workshop took place at M. Genevieve de Weever School on Thursday, November 20, 2008.
Using interactive activities, Mrs. Condon taught the teachers ways to teach spelling. The teachers were administered a spelling pre and post test and had a spelling configuration activity to complete. She also showed the teachers how to avoid copying materials by turning workbooks into activity cards for activity centers.
Afterwards, the teachers moved into the multi-purpose room to each receive a packet of free spelling, language, and writing materials and some books to use in one's classroom library.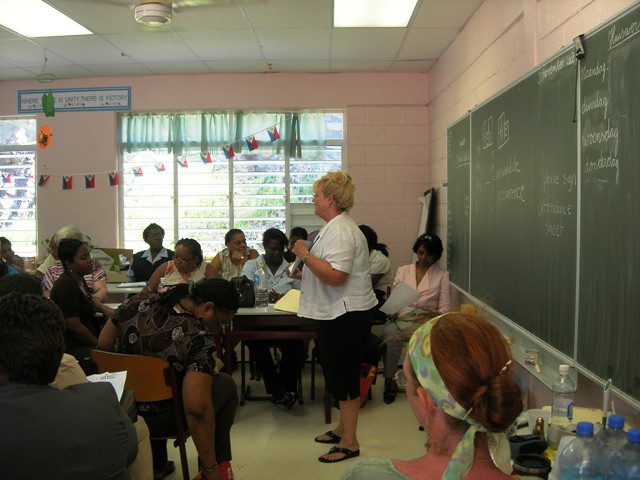 Thanks must go out to Mr. Frank Ferguson, CEO and President of Curriculum Associates for supplying sixteen boxes of free books to distribute to the teachers. Mr. Ferguson had also shipped many spelling books, in the past, for use at Ruby Labega Primary School. Kim Logan, Paul Butler and Trent Johnson from Four Star Cargo and Safe Cargo helped to facilitate the shipping of nineteen boxes of books free from Miami to St. Maarten. The Litchfield School System collected and shipped three boxes of library books.
Mrs. Judy Condon has assisted Ruby Labega Primary School in the past by arranging with schools in Norfolk Connecticut to collect and donate hundreds of books to set up a school library at Ruby Labega Primary School.