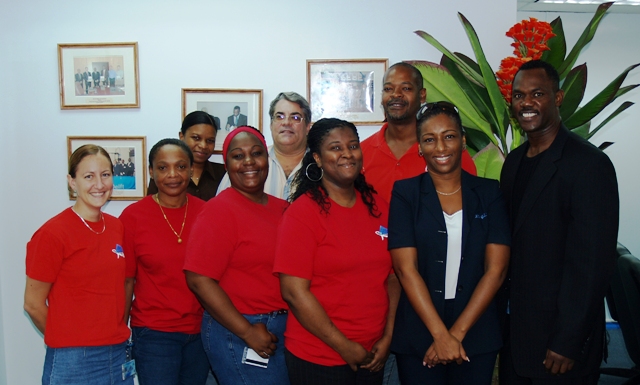 GEBE managing director, William Brooks, and the GEBE Talk [RED] Team presented certificates of appreciation to the volunteers who assisted GEBE with the AIDS awareness activities and employee workshops during the month of July. Brooks also presented a donation check to the St. Maarten AIDS Foundation to continue their efforts of AIDS awareness on St. Maarten. The managing director also presented Mr. Clifford Sasso of GEBE, who was the lucky winner of the GEBE employee AIDS Awareness contest, with a gift certificate at Le Grand Marche.
Dr. Cornelius de Weever attended the weekly sessions explaining the different HIV/AIDS and STDs to GEBE employees. Dr. van Osch gave a more in depth presentation of AIDS, how it is contracted and how it is treated. Gerrit Koelers was able to give a candid view of his experience of what it is like to live with HIV. The seminars received many positive reviews from the GEBE employees for being an informative, candid and fun approach to a very serious topic. The goal of the Talk [RED] program is to open the discussion about AIDS to increase the awareness and remove the stigma surrounding the disease.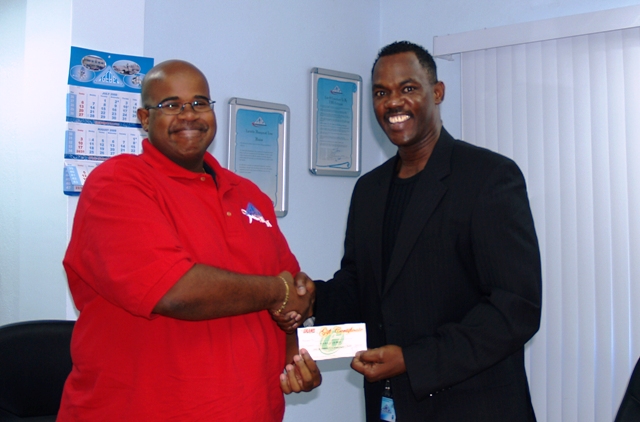 Dr. de Weever thanked GEBE for their participation in the Talk [RED] program and commended the GEBE Talk [RED] team on their creativity and approach. GEBE was the first company to also take the AIDS awareness to Saba and Statia working along with the foundations there.
Gerrit Koeler explained the reason for him coming out on the disease is to make the topic of HIV and AIDS open to those affected and effected.
GEBE managing director thanked the volunteers for their time and contribution while presenting the certificates of appreciation. He also thanked the GEBE Talk [RED] team for making the GEBE Talk [RED] Month of July such a success.
The GEBE Talk [RED] Team consisted of Rita Aikman, Lydia Carty, Elfrida Job, Jacqueline Hodge, Shaun Johnson (Saba), Jewel Laplante, Miranda Rombley, Beulah Simmons (Statia), and Giselle Dirckx-Williams. Activities organized during the month of July were the program launch, employee sessions, radio quizzes and information distribution to GEBE customers during the month of July.