Official opening of Foster family center opened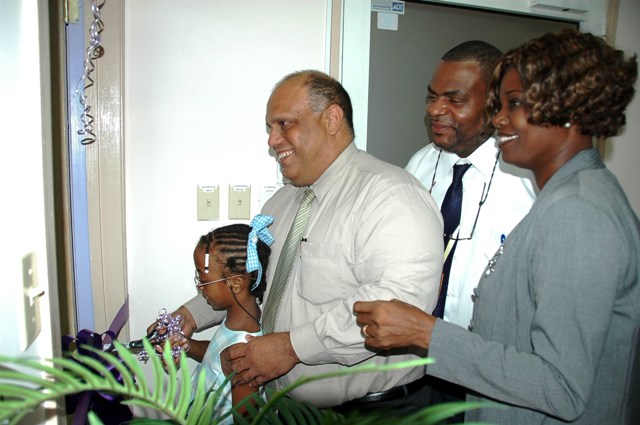 Yesterday afternoon, the Minister of Justice was present to officially open the new Family Foster Centre(FFC) in Madame Estate. Commissioner Sarah Wescot-Williams could not be present due to pressing matters.
At the opening event, the Director of the Foundation Judiciary Institutes, Windward Islands, Gregory Thomson, thanked everyone for being there and sharing in the experience. In addition, he thanked the Point Blanche inmates who provided the labor for the construction of the office for the new FFC.
The aim of FFC, according to Thompson, is to assist in helping operate the foster care system, to guide and supervise foster care, and to assist the personal and mental development of foster children in conjunction with such foster care organizations as Crystal Home and I Can that assist in abused, neglected, and at risk of harm children.
This organization, Thompson said, is similar in different parts of the world. He added that the goal for FFC is to get 20 foster parents, and 10 mentors. In order to partly accomplish these goals, a communication campaign will be launched to sensitize the community, a study will also be carried out to study the situation on St. Maarten, and in November there will be a conference on the topic.
With the office and the scheduled activities, there will be a more structured relationship with related foster organizations such as Ujima, I Can, and Crystal Home.
Present was also Minister David Dick (Justice) who provided some words of encouragement and insight into the direction the FFC should/will go.
He proudly asserted that the Family Foster care it is another project started. "Congratulations to St. Maarten and the office of FFC. I thank all who have worked on this project. It has been close to three years in the making," Minster Dick said. But adding that though there are reports criticizing justice, we also have to look at our objectives and goals. In the future regarding the organization, Minister Dick said, a lot has to placed on prevention. We will do this [build this FFC] because it is needed, but prevention is better."
He thanked the audience for being there and the management and staff of the new Family Foster Care. Minsiter Dick cut the ribbon with foster child G. Gene.