Tallahassee St. Maarten Foundation established,Working together in many areas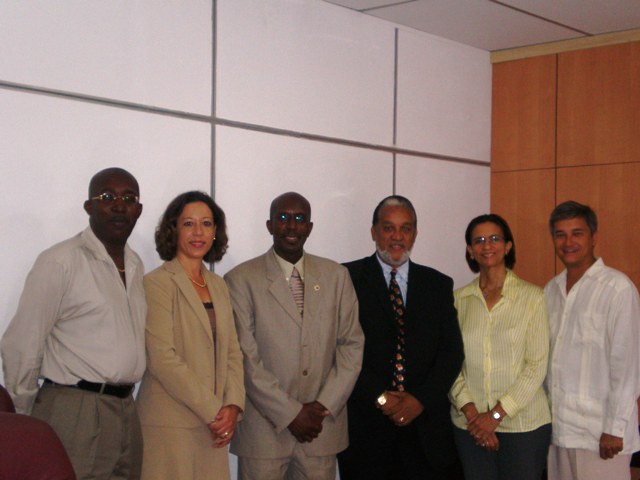 Executive Director of the Tallahassee St. Maarten Foundation, Arthur Lugisse paid a courtesy call to the Executive Council and reaffirmed the Governmentâ??s and citizensâ?? of Tallahassee commitment to St. Maarten.
"We would like to present to you a token of friendship and cooperation, moving forward towards assisting in the development of St. Maarten becoming a country," Lugisse said.
This token is the agreement between the Governments of St. Maarten and Tallahassee, which furthers the Memorandum of Understanding with Florida Agricultural and Mechanical University (FAMU) that allows students to continue to enjoy the benefits of paying in-state tuition prices.
Lugisse is the Students Coordinator for the Island Government of St. Maarten.
The agreement has, however, been extended to include other areas: Health, Information Communication Technology, Agriculture, Business Joint Venture opportunities, Medical, Students Faculty and Staff exchanges, Fire Department, Disaster Preparedness, Metrology, Security and Safety, Environment, Sports and Culture, Film festivals and Arts, etc.
"Our Partnership Agreement reflects many areas of possible coexistence," Lugisse said, "and we would like to make other areas of interest excel just like the Education platform did, with about 65 St. Maarten Students now attending Tertiary Educational institutions in the Tallahassee area."
Commissioner Andrew Gillum, an elected official to the Tallahassee City Commission in 2003, will be on the island from July 31- 4 August 2008. Gillum, according to Lugisse, will help to bridge the gap for future developments between the St. Maarten and Tallahassee, and thus hopes to network with all parties concerned.
Present at the meeting was Governor Franklyn E. Richards, Commissioners: Sarah Wescot-Williams, Roy Marlin, Theodore E. Heyliger, and Maria Buncamper-Molanus.
Arthur Lugisse: Executive Director TLH-SXMF
Bernard Hunt: President SMPC
Erno Labega: SMPC Liaison
Calvin Mardembrough: SXM Coordinator TLH-SXMF
Russell Bell: Member SMPC