French and Dutch Fire Services meet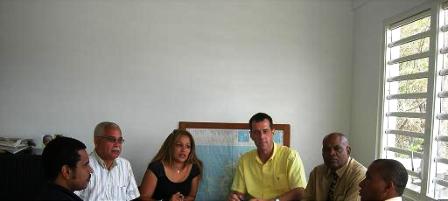 (From left to right, Fire Chief St. Martin Cleo Gumbs, Marcel Gumbs, Melissa Sadano-Nicolas, Head of the Office of Disaster Management Dutch side Paul Martens, Fire Commander Winston Salomon, and St. Martin Chief Cabinet of the Prefet Ambroise Devaux.)
Dutch side Fire Commander & Disaster Management Coordinator Winston Salomon, described a meeting that took place last week with officials from the French side Collectiviteâ??s Fire Services and representatives of the Office of the Prefet, as informative and positive.
"All participants are looking forward to follow-up sessions in the upcoming months. The goal is to establish practical and workable procedures that will improve mutual cooperation.
"Based on the responsibilities of the Governor and the Prefet delegue during disaster and emergency situations, they will be consulted and possibly included in follow-up meetings," Fire Commander Salomon told the Government Information Service (GIS).
Since the Administrative Accord signed in 2006, a mechanism exists for cooperation between the fire services and disaster management of Dutch and French sides. At the moment mutual assistance in fire services is rendered upon request of either side.
The main focus of the meeting was expanding the cooperation in the area of fire services and disaster management. The meeting is part of a series being organized by Liaison Officer Dutch-French Relations Marcel Gumbs and his counterpart from the Collectivite Melissa Sadano-Nicolas, since the Memorandum of Understanding (MoU) was signed on November 11, 2006 between the governments of Sint Maarten and Saint-Martin.
Topics discussed were: exchanging resource lists of fire and emergency services; establish a communication protocol based on the disaster and hurricane plans in the event of disasters in general and hurricanes in particular; coordination of information given to the public in hurricane situations; role of the two Meteorological Services, Meteo France and the Meteorological Services of the Netherlands Antilles & Aruba in the issuance of storm watches and warnings; access to each others trunking radio systems; and a joint hurricane table top exercise.